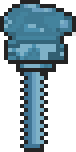 The Razersaw is a hardmode weapon/tool dropped by Skeletron Prime MK2. It functions as a sword and chainsaw.
Stats
200% axe power
140 melee damage
Very fast speed
Average knockback
12% critical strike chance
Tooltip: "Cut through wood and slay beasts!"
Trivia
It has the same sprite as Skeletron Prime MK2's saw. (It is Work In Progress!)
The spelling of "Razor" is a reference to the gaming company Razer.
Ad blocker interference detected!
Wikia is a free-to-use site that makes money from advertising. We have a modified experience for viewers using ad blockers

Wikia is not accessible if you've made further modifications. Remove the custom ad blocker rule(s) and the page will load as expected.