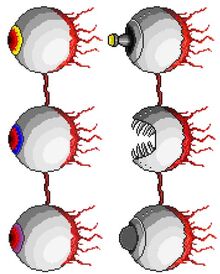 The Triplets Are A Hard-Mode Equivalent To The Twins And The Brotherhood (See The Brotherhood Page To Understand). These Eyes Are NOT Joking Around When It Comes To Killing Their Target!
In Fact, These Are Even HARDER Than The Brotherhood! They All Are Unique And Are A Force To Be Reckoned With, They All Are EXTREMELY hard To Take Down!
So, Enough Talking, Lets Get Down To Buisness!
( Phase 2 Of The Triplets Coming Soon )